ALL ARE WELCOME!
Christian Science is firmly grounded on the teachings of the Holy Bible, both Old and New Testaments. Its practice is drawn from the teachings and healings of Jesus and the early Christians, and Christian Science is available to anyone to study, understand and apply.
SERVICES:
Our church reopened for in-person Sunday services on January 3, 2021 (10:30am)
Our Wednesday evening services will continue via Zoom at 7:30 pm.
Anyone who feels more comfortable participating in a church service from home is lovingly invited to listen to the online Mother Church service at 10:00 am at the link on this page.
We look forward to seeing you at church in the New Year
READING ROOM:
The Reading Room at 429 Cleveland Street will be open on:

Mondays noon to 3
Wednesday 11-2
Thursday 11-2
Friday  11-2

Call for more information:
727 – 446- 3748
---
Consider yourself at home…
The Christian Science Church in Clearwater, Florida just minutes from world famous Clearwater Beach, has been welcoming vacationers, snowbirds, and residents for over fifty years.

So whether you're here for a visit – or here to stay – please join us for our services:

Sundays 10:30 am – Church & Sunday School (up to age 20)
Wednesdays 7:30 pm – Testimony Meeting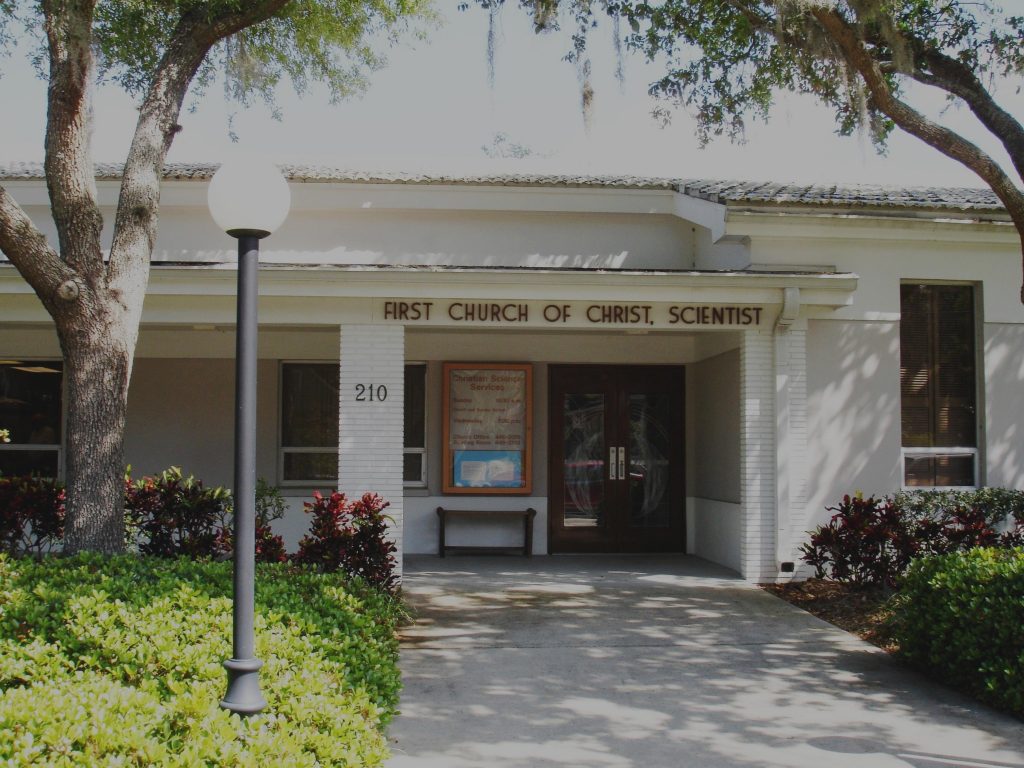 ---
The term "Christian Science" refers to the theology and healing system discovered by Mary Baker Eddy during the latter part of the nineteenth century, as well as to the Christian denomination and church organization she founded in 1879.

Christian Scientists view curing illness through prayer as an important and natural aspect of Christian life. Over many generations, Christian Science treatment, as it is called, has proved a safe and effective means of health care. But this healing practice is primarily a means of drawing closer to God.

Our church services help us draw closer to God by providing a thought-provoking contemplative service on Sundays (10:30-11:30 am) as well as an opportunity to share healings and insights at our mid-week meeting on Wednesday evenings (7:30-8:30 pm.) Students up to the age of twenty are welcome in our Sunday School, which runs concurrently with our Sunday service.
---
SERVICES
Every Sunday Morning
Church service every Sunday morning at 10:30! Join us for a timely lesson from the Bible and our Christian Science text book Science and Health with Key to the Scriptures! The public is always welcome!
Every Wednesday Evening
Get a grip on your life! Join us this Wednesday evening for a mid-week lift that can help with life's challenges! Every Wednesday at 7:30 pm. The public is always invited to attend!
SUNDAY SCHOOL
Our Sunday School is happy to welcome all visitors from pre-school up to the age of twenty. Our excellent, dedicated staff instruct their students in the King James version of the Bible, along with Science and Health with Key to the Scriptures by Mary Baker Eddy. Our goal is to meet and inspire a love for God and Christian values in our students. We strive to teach the usefulness and practical application of the Bible in our daily lives by emulating the example of Jesus healing ministry.
READING ROOM
A bookstore where Bibles, Christian Science books, magazines, and other books are available for purchase, loan, or reference. All are welcome. Our Pastors are the Bible and Science and Health with Key to the Scriptures by Mary Baker Eddy. Science and Health was first published in 1875 and has been providing the healing truth to mankind since that time. An entire chapter of the textbook is devoted to healings that people have experienced simply by reading the book.
---
Learn More
Simply put, Christian Science is the science of Christianity the practical application of Christian ideas to daily life. It s both a religious teaching and a system of healing founded on the Bible s universal truths. Learn about Christian Science.
Reading Room Hours
Mondays noon to 3
Wednesday 11-2
Thursday 11-2
Friday  11-2
---
---